Today went pretty well. I made adjustments to my jacket pattern and sewed up another toile as I had a crit in the afternoon. I had left all my seams straight as I wanted to do cording around the waist.
Here's the front: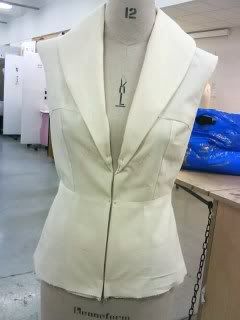 And the back:
I added frills to the centre back but forgot to take a picture before I had my crit so here is the back with my new style lines.
Here's the side:
Here's the side front:
And here's it from the front. The collar is pinned as I need to take some volume out of it so that it stands upright rather than lying flat on the shoulders.
Thanks for looking.