Well made sure I was at lakeside early and had my breakfast at Macdonalds. I surfed the internet for a bit and caught up with posts on
A Crafty Natter
. Then my dad wanted to go lakeside so he rang me just before he left. I went to the post office and returned some tops from New Look and sent off Crystal's Dragons to Rachael (Frog101). Then went to meet my dad and he couldn't get what he had gone there to get so we bought Millies Cookies (Ooh that reminds me there are some left). I went to the bank to pay Joey's birthday money into his account.
We then went to Grays and my dad finally bought something that he wanted, and I bought a nice bulldock clip to put my hair up as now it's long I hate it being down all the time. We also stopped at a little stall and found some cool keyring things and my dad bought me a pink one! lol.
Here's the clip and keyring: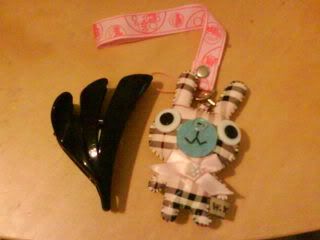 I also put the collar and facing onto my jacket toile. All I need to do now is make my mind up of which pieces to do in which colour denim. I also need to work out what type of sleeve it's going to have too lol.
Here's my jacket toile with a collar. Front:
Side: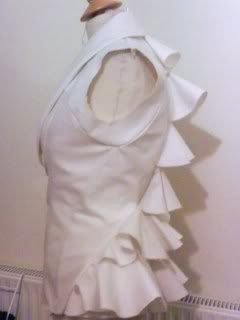 And Back:
Here it is with fabric swatches too just to give you an idea of what it might look like: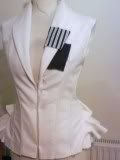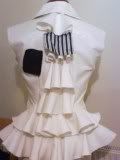 Thanks for looking.