We made it to London and had a yummy pizza at Pizza hut or should I say Pasta Hut as that's what the sign said lol. We got some tickets to see Avenue Q and went in the fair for a little while. It was raining all the time but it was so much fun. We went in the Ice maze and looked like dwarfes in the funny mirrors.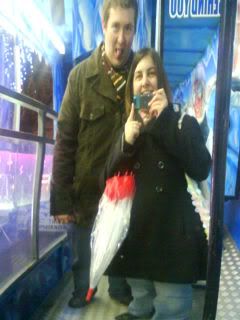 Jow went on the rifles I think 5 times and almost got rid of the star but claimed the gun pulled to the left lol. I dragged him on the Waltza, (my favourite fairground ride of which I hadn't been on one for years), and I screamed my head off laughing the whole time! We went on the dodgems and I kept getting stuck lol, and Joe won me a little reindeer at the darts, managing to get under 30 points! I probably would have hit the bullseye first time without looking lol. For some reason it just happens.
[picture of reindeer coming] lol.
Then we went to see Avenue Q.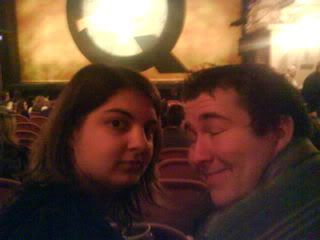 We went to the hotel after the show and had a drink before going to bed. it was soooooo comfortable, then again 5-star hotels make comfort a necessity lol.
Thanks for looking.