Yesterday I spent the whole day alterating my dress patterns so that they had gathering allowances. I managed to get all three panels drawn up so they just need to be traced off as pattern pieces and I also altered two panel shapes from the centre back too. I've changed my original idea of having two dress layers because I found it tricky and confusing of how to put it on the stand all the time so now I will be attaching an underneath layer directly to the top layer, all will be revealed when complete lol.
Anyway today I finally got my fabrics out on the floor and scrunched them together to see what they would look like. Here is how it came out.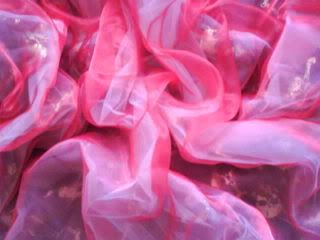 I definitely need more fabric as there is probably only enough for the 3 gathered panels and I need probabaly double what I have in order to do the manipulated panels too.
Well tomorrow I will make up another toile and then show you some more pictures and then I can work out exactly how much fabric I need and go back to the shop to get some more.
Thanks for looking.