I made up one cushion on Monday (the yellow one) and made up the second one today (the blue one). They are to match Essie and Frido's quilt that i put together back in October. I hope they match OK as I have used the same fabrics and also that Essie and Frido like them too.
The squares were stitched by Michelle and Mavis from
A Crafty Natter
. Michelle's is the ducky and Mavis' is the ABC block.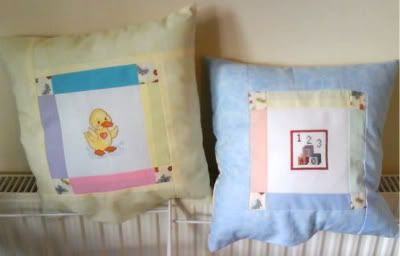 And here is a close up of the second one, square stitched by Mavis.
Hope you like them Essie and Frido. I will sew up the gaps in the bottoms and send them out to you next week!
And for all those that have asked for the tutorial I have now put up a link to my tutorials blog which has a step by step. Please don't be put off by a couple of the photos are from the blue cushion although the rest are of the yellow cushion.
Thanks for looking.