Well after being woken up at 7 this morning by a car stuck in the road and revving to get over the ice that had formed I couldn't get back to sleep. Then I saw the milk float get stuck too and it ended up reversing down the road (my road is on a slope).
So here is the snow outside: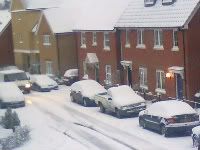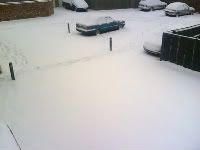 Like a blanket of snow out the back of my flat lol.
And after gettin up properly I then went to my friend Lauren's house and we made a snowman with three sections and had a snowball fight.
Here are the final stages of the snowman:
Oh and here's a face I made on one of the cars.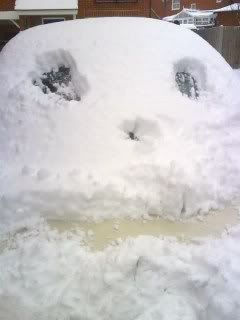 Unfortunately Joey has been stuck with my dad and sister all day as they can't get the car out of the drive lol. Hopefully when they finally manage to get him home then we can make a snowman together like we did the last April.
We have no buses or trains so I can't get to them either lol. Typical.
Thanks for looking.