This is the piece I made for the colour exchange on
Exchange Heaven.
My partner was Susan and her colour choices were Red, Green / Blue. I had a quick look at her blog and chose to stitch this flowery design, #692 from my 'Repertoire des Frises book' and make it into a biscornu, adapting the pattern to create the bottom panel.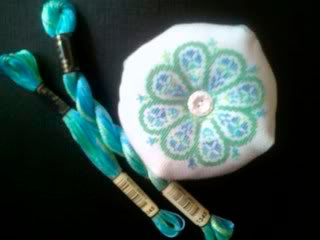 I am so pleased with how it turned out. I have loved stitching it and can't wait for the next one. So glad you like it Susan!
I managed to take pictures step-by-step for another tutorial although I pretty much made it in the same way as the others.
Thanks for looking.