I recently joined the TUSAL on the Dragon My Needle blog. I managed to find some really nice jars in BHS in two sizes. Both small and large. I bought 2 small and one large to make up a small display in the future when they are all filled. My first filling date was 24th May, which has already passed so here are my pictures.

Empty jar:



How it looks: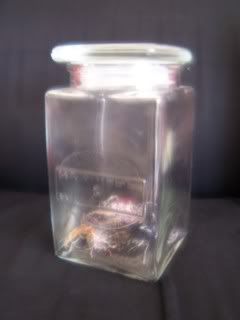 Inside the jar:



Items/threads from:

ORT bag - top
Current UFO Night project - left
A black wool jacket I was making before Easter - right
Current exchange pieces - left
Thanks for looking.