OK so I admit it! I am late yet again with posting my pics of my
TUSAL
jar. With the new
sign up ready for 2010
I haven't yet decided whether to continue with this jar or start a whole new one.
I could start a new one and use the threads from my 2009 jar for projects as there are quite a few threads in it and a few scraps of fabric etc. The idea of a quilt patch perhaps by fusing all the threads together and maybe stitching over the top of them? Ooh that actually sounds like a good idea. Stay posted for that one (whenever I get the free time).
Anyway here are the pics of my jar, inside and the side view: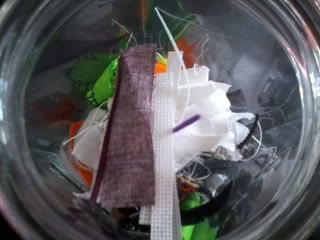 Thanks for looking.