Inside the mess that is ME! - pictures are all clickable...
I have actually tidied up somewhat to take these pictures and filled a box of rubbish by doing so, so it pays to sort every now and then. I also found a samsonite suitcase which didn't lock properly yet I couldn't get it open, how strange...
Anywho, here is my main shelving unit and cabinet within my living room. Both from IKEA, one being the Expedit shelving and the other I believe is a Hemnes unit with glass doors and a drawer at the bottom. You'll see I have many boxes on top and an old hamper that belonged to my nan which holds lace amongst other things.
The two larger cake boxes hold my knitting wool, needles and crochet hooks. The two smaller ones hold threads and cross stitch fabrics. The purple one has my organza bags and little boxes for my hand-made jewellery and accessories.
As I live in a flat in the UK with my son, space is hard to come by and as I've recently finished 5 years of fashion design, you can probably see that I've accumulated quite a lot of boxes of fabric which tries to hide in the corner and fails miserably. I also have cushions ready for covers and wadding here too...
This however is not my complete haul of fabric... There is a small 3 tiered cupboard type thing although when I say small it is 1metre high and about 25cm x 25cm with 3 shelves, which is also full of fabrics although mainly fat quarters. My spare cupboard is also home to 2 very large boxes of gorgeous fabrics mainly silks I've ordered from Hong Kong as I just 'Could not resist'.
My parents recently arrived home from a 2 week cruise in the Med and brought back a couple of masks with them which immediately went onto the shelving unit... If you look closely you'll see a red and gold one with my teddy cross stitch on the top and this black/silver one in one of the shelves.
Other shelves hold cross stitch magazines, jewellery components and my sons crafting stuff too.
The glass door cabinet holds all of the books I collected throughout my college and university as well as folders of patterns and photos etc. As well as teaching books for the future and the top shelf holds the Trueblood and Twilight books. As you can see I have a lot of cross stitch gifts on display to remind me of my stitching friends...
Now where do I create all my lovely work??? Cross stitching is done in my lovely round sofa which sits opposite my shelving unit although to the right a bit as the picture is taken from the doorway... Anything else is done at my dining table. It's starting to fall apart really, well the chairs definitely are anyway but then it was there when I moved in... 5 years ago now.
Also living on this table is my sewing machine, surrounded by fabric as it should be.
Well that's me... Feel free to look around my blog and thankyou for visiting my creative space.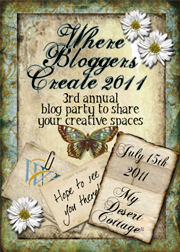 My Desert Cottage