Well at Uni today I had my toile crit for my corset. The shape and fit were absolutely fine, but we had straightened all our panels as they were twisting awkwardly when we tried them curved on the stand. Anyway the tutors drew on the new panel shapes and we cut it up to take new patterns from.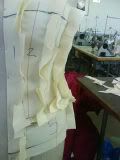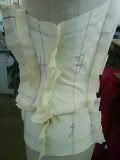 I even got a little done on my Italy heart too. Day two's progress.
Thankyou for looking.