Went to the gym yesterday morning and felt so much better afterwards. I got some great stitching done too.
Today I decided to go to Romford and got some fantastic Halloween fabric. Lime green and bright orange spiderweb print. I intend on making a cape for Joey for Halloween.
Here is my stitching from today. His robe is nearly finished and I finished another colour too.
After getting so much done on my teddy over the past few days I decided to put it down and stitch only on UFO Nights.
In the meantime I started my Victoria Sampler, international hearts kit of Italy. It is a Christmas present for my BF's parents as his mum's family is from Italy.
Here is my progress on day one.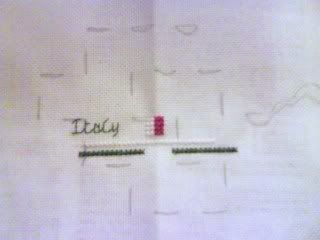 Thanks for looking.