Joey spent the weekend with my parents and he's had a fever now since friday evening and as it was still a little high this morning I didn't think it was worth taking him in to nursery.
Instead he spent the day with me and I took him to lakeside to go Hannah Banana. He loves it there! lol.
Here he is on a Postman pat ride lol.
And here on a merry go round.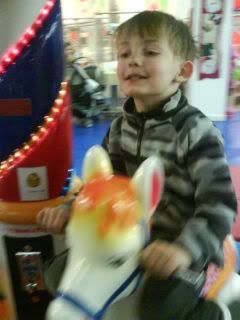 He had a great time and we managed to get quite a few tickets out of the machines too lol.