Well this morning Joey had his pre-school boosters. He had to watch the bugs (little furry balls with googly eyes) and one of them kept biting him lol. He was very brave and didn't really squirm untill the second one. The nurse didn't have any lollypops but he did get some stickers lol.
Anyway I dropped him off at nursery and then went to Lakeside to get some lunch. I went all around looking for ben10 wrapping paper and found it in the last shop I went to lol. Typical.
When I got home I caught up posts on
Stitch & Stashers
, and
A Crafty Natter
before printing out some pictures of my jacket and then drew on my design lines to get an idea of what it will look like when finished.
Here is the front of the jacket: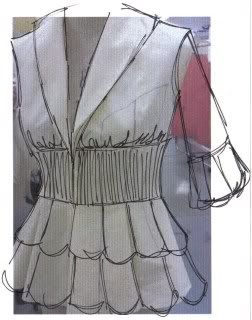 The side and back:
And here is my dress:
Thanks for looking.