On Thursday I went to the Stitch & Craft Show at Olympia and had quite a nice day out. I made my way around the ground floor before heading down to the lower ground where I booked myself into a knitted flower brooches class and managed to make a couple of flowers lol. I even learned to purl properly after being able to knit for years. I also went up to the top floor for a look around too and got a free goody bag from the RUcraft stand.

Here are my flowers: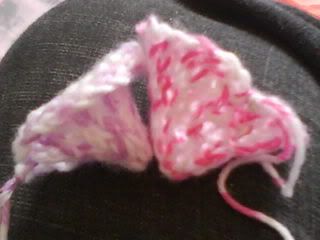 And here is my stash from the show:



The items are as follows from top left to right and then bottom left to right:

18 count pearlescent aida ~ white
28 count pebble print evenweave ~ grey
32 count pearlescent evenweave ~ white
Red stitch un-pick
2 strong magnets
A charm kit ~ pink
A mini mannequin stand ~ pin cushion
Sewing/knitting bag with cow print and pink detailing
4mm knitting needles
2 pairs of embroidery scissors ~ 1 stork shaped & green, 1 simple & white speckled
Some beads ~ pink and clear swarovski and a white china heart
Some head pins and some silver balls
10mm knitting needles
Oh and here's some seed beads I bought for a project of mine that I can't show you yet lol:



Here's a couple of things that caught my interest at the show, I just had to take some pictures lol. This is the "Gone to Pieces" Button-up quilt:


This is part of the growing coral reef project:


And this is a little boy mannequin I found dressed in a cute little jumper and hat:



Thanks for looking.