I took Joey shopping with me to get some Uni bits and he decided to try on some glasses in Claires Accesories-don't he look cool!:
Tried to find some fabric to go with Emily Peacock's 'HUG' cushion my mum has recently finished and this seemed to have all the colours but didn't get it at the time, it is lovely though:
And finally here is a butterfly cake that Joey made at school which btw tasted gorgeous! Although could've done without the sweets on top lol: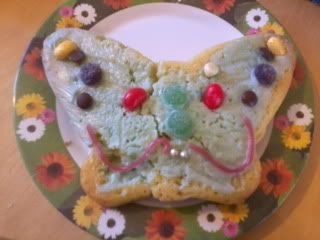 Thanks for looking.