Kat at KatEyeStudio has launched this year's Liberate Your Art Postcard Swap.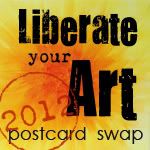 Last year was such a huge success and everyone received some gorgeous postcards. I have joined again as it was so much fun creating a set of Postcards that flew around the world, just a shame I never found out where they ended up. Here are the ones I received last year, as well as the card from Kat herself:
I hope this year will be as successful if not more than last year.
Thanks Kat!